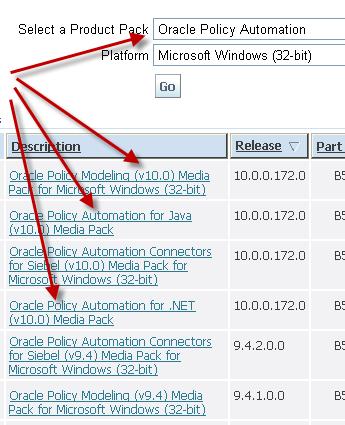 OPA – Oracle Policy Automation (server side)
OPM – Oracle Policy Modelling (client side)
Oracle Policy Automation (earlier Haley Office Rules) version 10 is now available to download from http://edelivery.oracle.com
For new features in version 10 follow release notes (included with software).
 .
OPA Component
Oracle Policy Automation Suite consists of three main components
.
1. Oracle Policy Modelling– is client side utility to generate rules using Microsoft Work, Excel, Visio 
2. Oracle Policy Automation– is run time component (server side) available as .NET or Java . rules developed using OPM are deployed to OPA. OPA consists of following sub-component
2.1 Web Determinations
2.2 Determinations Server
2.3 Determinations Engine
2.4 Determinations Engine for Mobile Devices
2.5 Determinations Engine Data Source Connector
3. OPA connector for Siebel – provides data mapping facility Siebel and Rules and integration with Siebel workflows to contact Determinations Server for Decisions.