BEA's AquaLogic Service Bus (ALSB) and Oracle's Enterprise Service Bus (ESB) are now called as Oracle Service Bus (OSB).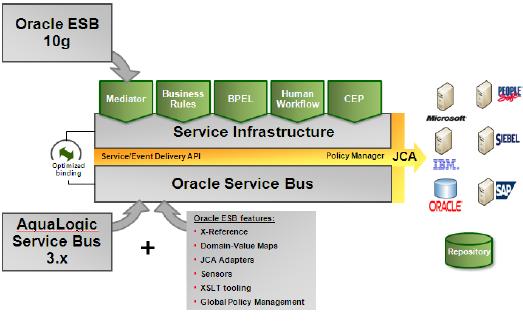 .
Use of Service Bus (SB):
Service Bus offers connectivity options (for standard interfaces like SOAP, messages .. and packaged applications & legacy system via adapters), messaging & routing (efficient, reliable and secure flow of data) , Transformation (data format from one service to another service), aggregation and auditing of messages.
Service Bus is one of component in SOA Suite (BPEL, Service Registry, BAM) which you could install as part of SOA Suite or as stand alone product.
.
For Oracle Service Bus statement of direction Click Here
.
Documentation
Download

Download Oracle Service Bus 10g R3 (standalone) or BEA's AquaLogic Service Bus 3.0 Click Here
To download Oracle Enterprise Service Bus 10.1.3.1.0 click here