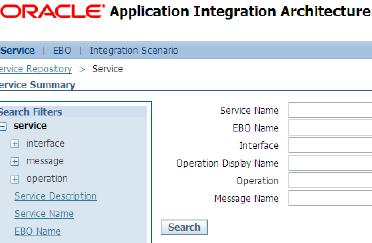 Application Integration Architecture (AIA) Foundation pack consist of
—Enterprise Business Objects (EBO)
—Enterprise Business Messages (EBM)
—Enterprise Business Services (EBS)
—Core Infrastructure Components (Composite Application Validation, Business Service Repository, Error Handling and logging, Diagnostics)
.
Key Points Good to know with AIA Installation

1. Application Integration Architecture (AIA) Foundation pack runs on Oracle SOA Suite.

2. Oracle SOA server runs either on Oracle Application Server (OAS) 10g R3 or Oracle WebLogic Server 9.2 (as of 12 Oct 08)
3. Oracle SOA Server should be of version 10.1.3.3.X or higher (When using OAS)
4. If you are planning to use Oracle Application Server (OAS) then use Oracle Service Registry. If you are planning to use Oracle WebLogic Server then use AquaLogic Service Registry.

5. Oracle Service Registry should be minimum 10.1.3.1 for SOA Suite on OAS 10gR3 (If you are planning to use WebLogic Server then install AquaLogic Service Registry 3.0)

6. You use Oracle Universal Installer (OUI) to install & uninstall AIA

7. Use separate directory for Apps Server (OAS or WebLogic) and AIA software.
8. Upgrade JDK used with oracle SOA Suite (10.1.3.X) to JDK 5.0 update 11 (1.5.11) (Only if you are using SOA suite on Oracle Application Server)
9. For AIA repository, you can use same database as one for SOA suite or separate database. 
AIA Installation Guide is available here (login to Metalink first and then click on link)
Download Software from edelivery.oracle.com , under Product Pack select Oracle Application Integration Architecture
References
739985.1 Oracle Application Integration Architecture – Foundation Pack 2.2.1: Installation Guide