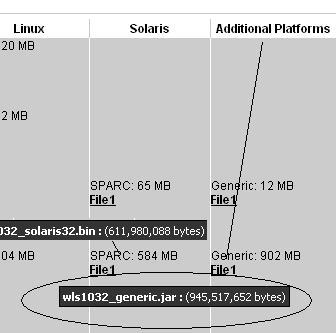 In my first post on WebLogic here here, I discussed about Weblogic installation using 32 bit of JDK so How to install 64 bit WebLogic on 64 bit Operating System (Linux/Unix) ?
 .
Install 64 bit WebLogic on 64 bit O.S (Unix/Linux)
1. Download jar file wlsXXX_generic.jar from here under column "Additional Platform"
2. Install 64 bit of JDK on your Unix/Linux machine (steps below)
3. Install WebLogic Server using 64 bit JDK with option -d64 and wlsXXX_generic.jar  like
$JDK1.6/bin/java -d64 -jar wlsXXX_generic.jar  (-d64 flag is not required for Linux)
 .
.
How to install 64 bit JDK on Solaris Sparc ?
Steps mentioned here are for 64 bit Solaris Sparc (If you are using Linux download 64 bit JDK for Linux)
1. Download JDK 1.6 from here  and copy it to /tmp
mkdir /usr/java/1.6
cd /usr/java/1.6
2. Install jdk-6u16-solaris-sparc.sh
/tmp/jdk-6u16-solaris-sparc.sh
3. Install jdk-6u16-solaris-sparcv9.sh
cd /usr/java/1.6
/tmp/jdk-6u16-solaris-sparcv9.sh
4. Check JDK version
bash-3.00# cd /usr/java/1.6/bin
bash-3.00# ./java -d64 -version
_______
java version "1.6.0_16″
Java(TM) SE Runtime Environment (build 1.6.0_16-b01)
Java HotSpot(TM) 64-Bit Server VM (build 14.2-b01, mixed mode)
_______ .References